From time to time, we'll post an article from a previous issue of our monthly newsletter, The Word. This is our last repost from the November 2016 issue of our newsletter. There's some great advice here for current — and future — dais officers (of all Masonic Bodies). Have you had any great ideas and successes we didn't cover here? Leave us all a comment below and you could be featured in an upcoming issue of The Word!
Chapter meetings don't have to be boring. With a little effort, you can make it something to really look forward to.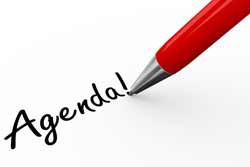 First, have a plan for the year that includes something unique for EVERY stated convocation. That does not mean just reading minutes and communications, discussing business, and talking endlessly about things you should be doing, but never will. Every meeting should have something that brings out members and gets them excited about being Royal Arch Masons. If that's not happening, your Chapter is dying. Plain and simple, Companions.
Start each meeting night with a meal. Strive for good food that is reasonably priced. Take turns cooking meals for each other. Once in a while, have something really nice catered in. Even going out for a meal at a nice restaurant ahead of the meeting can be something everyone looks forward to.
Try adding a speaker to each meeting. Remember, part of your obligation as a Past Master was to cause a lecture to be given or some part thereof. Speakers can talk about some aspect of the fraternity., some part of your Chapter's history, an esoteric Masonic topic, a review of a degree or lecture, a current topic in the news, or simply a conversation about something of mutual interest.
There are plenty of programs you can plan for as well. Everyone can talk about their favorite aspect of a degree. Or they can do a walk-through of some conferral, discussing why things are done or perhaps ways to enhance the experience. Still other programs can be fun, like a Chapter of Confusion, the Order of the Overseers, or some side degree that brings an entertaining aspect to the meeting.
Plan some events. It is a great way to build and encourage the interest and attention of your Companions. Start small – maybe it's a Past High Priests Dinner or a small fundraising event. Social events bring together Companions, can include our families and spouses, and almost always are something everyone talks about months after they've happened. These become the traditions to build your Chapter around. Members begin to plan around them instead of making excuses.
Companions, it's easy to have a meeting that your members look forward to and want to attend. All it takes is a little thought, planning, and drive to get things done. Be creative, Companions!